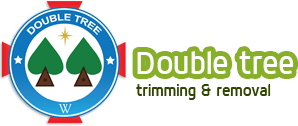 Expert Tree Service & Landscaping Services Connecticut & New York
Removing trees from your property and expert landscaping services is our business. If you have a tree on your business property or somewhere in your industrial area, our tree removal service is here to help you.  If you need efficient landscaping services our team is right at hand. Our insured and bonded tree removal and landscaping  professionals have the expertise and skills that you need for services in Fairfield County and Western Connecticut. At Double Tree, we have a staff of certified tree removal experts and registered arborists.
(855) 979-7475 Tree Service & All Types of Landscaping
Our employees have gone through extensive training so that they can provide you with the best services regarding tree removal or other tree related services.We also make sure that you get the most competitive tree removal and landscaping quote that  will satisfy your budget. Call us now at (855) 979-7475 to get tree removal and landscaping service quotes or complete our FREE ESTIMATE form!

If you are looking for an experienced, affordable, licensed and fully insured tree removal service company then you have come to the right place. We, at Double Tree specialize in providing tree removal services at the most competitive prices in the greater Connecticut and New York area. Sometimes it becomes essential to remove a tree in order to maintain the health of other trees – here come our services.
read more
Read what our customers say!
We contacted numerous tree companies regarding our tree needs in Ridgefield CT . Double Tree Trimming & removal provided us with a quote as did the other companies. But double tree was the only one to check back with us to see if we was still interested in getting...
read more
Massive tree hit the front of my house and went through the attic and my sons rooms. The tree was lodged inside of the house. My house is made of stucco siding so it would be very easy if a mistake was made to pull half of the house to the ground. John came over and...
read more